INSTITUTIONS
The range of our institution projects include Healthcare, Sports Venues and Museums and Theaters.

Healthcare facilities can take advantage of Post-Tensioning's versatility. Future penetrations can be located with ground-penetrating radar.

MARIANJOY HOSPITAL
Project Name: Marianjoy Rehabilition Hospital
Location: Wheaton, IL
Contractor: Tetratech
PT Quantity: 330,000 feet
Facts: The project had a complex pattern of tendons in the flat-plate system. Most of the tendons were curved due to the column layout and building shape.

Post-Tensioned Concrete can be selected for sports arenas for its superior durability, quick construction time and capability to enable a column-free design that offers better lighting. AMSYSCO has worked on many structures related to the entertainment industry.
Project Name: Minnesota Twins Ballpark (Target Field)
Location: Minneapolis, MN
Contractor: M.A. Mortenson
PT Quantity: 750,000 feet
Facts: The open-air, 1 million-square-foot ballpark holds seating for 40,000 fans. PT was used in the beams and girders that supported seating and office areas.
> View PTI presentation by Neel Khosa
> Read article in 'Structural Engineering & Design' magazine
---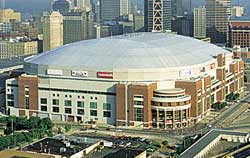 EDWARD JONES STADIUM
Project Name: Edward Jones Stadium
Location: St. Louis, MO
Contractor: Alberici Construction
PT Quantity: 800,000 feet
Facts: The project incorporated Post-Tensioned raker beams which were cast at approximately 45-degree angles.  These beams supported the seating floor.  The raker beams had PT tendons with rather unusual profile.  The accuracy of the shop drawings became critical to the project's success.

Post-Tensioning can solve unique structural and architectural problems with the construction of theaters and museums. High-strength PT are used to support heavy live-load and dead-loads.

GUTHRIE THEATRE
Project Name: New Guthrie Theatre & Garage
Location: Minneapolis, MN
Contractor: McGough Construction
PT Quantity: 80,000 feet in theatre and 1.0 million feet in the garage
Facts: The Guthrie Theatre won the 2008 PTI Award of Excellence Project of the Year. The framing system for the theatre consisted of an 8″ thick sloping Post-Tensioned slab supported by a radial/circular network of PT beams and cantilevered PT girders on five tiers. The complex design solved requirements for heavy-loading and column-free areas. The Post-Tensioned Garage has 1000 parking spaces.
> Download PTI Journal article